500 Word This I Believe Essay Examples
In the spring of 2011, Georgia Tech started a "This I Believe" project in partnership with the Writing and Communication Program. The campus reading series and student contest are unofficial off-shoots of a popular radio series, originally hosted by Edward R. Murrow in the 1950s, and then resuscitated on NPR from 2005-2009. The radio essays are short and powerful personal essays about core beliefs, written by people from all walks of life.
"My grandmother had died, but here I was, eating a food made with love by her own hands. I believe in remembering. I believe in the taste of salted pickles."
The genre enjoys great popularity with educators. In most classes I have taught at Tech, at least one student has written a "This I Believe" essay in high school. It is not hard to figure out why teachers find the assignment useful. Successful examples of the genre often share many traits of written communication in which most educators hope their students will become proficient. Strong essays have clear thesis statements, vivid details that support the main idea, careful editing, and respect for the needs of the listening audience. "This I Believe" essays are short, only 500 words or so. As early-semester assignments in the first-year communication classroom, the brief essays can help students learn several key effective communication practices that will help them in future rhetorical situations.
The essay also makes a great early assignment because students often enjoy it. I have found that students embrace the chance to express themselves creatively in ways that are not available in many of the core classes they are take as freshmen at Tech. They can talk about their lives and feelings—subjects that do not often come up in Chemical Principles I or Intro to Computing. The subjects of the essays are as unique as the writers themselves. My student finalists have written essays on topics as diverse as "I Believe in Salted Pickles," "I Believe in Jackson Pollack," and "I Believe a Football Player Can Choose to be a Cellist." Each author has the chance to stamp the essay with his or her own personality, interests, and background.
"With social pressures added to the fact that my father, two uncles, and three cousins played professional football, I felt that I had to play football. But I was living a double life. I discovered the cello in tenth grade, and now it is what I do."
Along with the freedom in subject matter (and the joys and terrors that can accompany such liberty) comes the comfort of the essay's recognizable form. Listen to or read a few pieces, and you will see a pattern emerge. The essay traditionally begins with a short introduction that includes a declaration of belief. The idea is then backed up by a story. Description, details, and dialogue make the story come alive and help the audience live in the author's shoes. The stories often feel intimate—like a close friend talking to you. The end of essay circles back to the beginning; the author restates the belief and expands on the main idea. This traditional narrative style (1. topic, 2. support, 3. conclusion) will likely seem quite familiar to most of our student authors. Adventurous students might choose to experiment stylistically. However, many students find comfort in following the traditional style with a recognizable sense of progression. With narrative structure somewhat pre-determined, students have the opportunity to focus on details and style that will make the essay memorable.
The essay makes an especially good first or early assignment in a first-year communication course because the author's interaction with the audience is essential to the essay's success. A "This I Believe" essay is effective when understanding has been built between author and audience, and when the audience is profoundly moved. In my classes, throughout all the stages of composition, students have peer review sessions for brainstorming and editing. I encourage students to be "greedy readers"—to ask their peers for more information about the events that are intriguing yet undeveloped.
"My family is now split between Atlanta, Spain and Venezuela, but we still have time to share 'Sunday mornings' often. Even when I feel like the loneliest person in the whole world, with just one comforting word from someone back home I feel protected again."
Although not every story will be heart-wrenching or revealing, there are always a few very personal stories in every class. My students have shared stories on subjects as personal as the death of a sibling, family abuse, a friend's suicide attempt, and divorce. When at least several students are brave enough to reveal personal details, trust is built among all the new classmates—most of whom are virtually strangers when they walk into the classroom. The final draft of the project is a formal presentation of the essay to the class. When students read their essays or present videos, Prezis, or PowerPoints, the authors experience the audience's reaction. Peers may laugh, cry, or simply look interested. In the best situations, the students get the thrill of peer recognition. If, on the other hand, a performance falls short, the student may be inspired by the successful classmates to improve the quality of his or her work. Overall, peers get to know and feel more comfortable with each other throughout the class project.
In my class, students then submit the written essays to the "This I Believe" contest at Tech. Those students who have written about private experiences they are not yet comfortable sharing with an audience outside the classroom may choose to submit their work anonymously. Winning essays are posted on the "This I Believe" website, and the top four or five essays are presented by the students at a public reading. I give extra credit to the winners and also to those students who attend the reading. Both writers and audience members are vital to success of a literary work.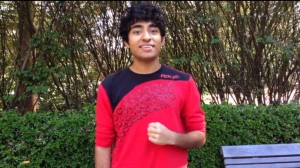 "In the world we live in, I think it is very important to have some basic knowledge about everything. I think that no matter what profession you are in, you should know your science, know how businesses and financial institutions work, and know your history and government."
I hope that many Brittain Fellows will consider including a "This I Believe" unit in their classes this year. The artifact encourages immersion in a genre, personal written expression, collaboration with peers, revision, awareness of one's audience, and poise in public presentations. The artifact can be adapted in many ways to fulfill the Writing and Communication Program's emphasis on multimodal communication. In recent years, a number of Brittain Fellows have used the campus contest as inspiration for diverse types of multimodal assignments. The resources at the end of this post offer a sampling of students' multimodal projects.
***
My Outline for the "This I Believe" Unit:
Introduce the history of "This I Believe" (http://thisibelieve.org/about/). Play audio recordings of several NPR essays, which are read by the authors themselves. (The written text is also available for those who would like to follow the essay by reading.) I like to present: "Cutting Our Grandmothers' Saris," by Priya Chandrasekaran; "Call Your Mother," by Suzanne Biemiller; and "The Beatles Live On," by Macklin Levine. These three essays have intriguing hooks, rich details and dialogue, surprising twists of narrative, and meaningful conclusions that are heartfelt while avoiding sugary sentimentality. The essay by Macklin Levine is especially humbling since it is written by a twelve-year-old. After hearing her carefully constructed and emotional essay, any college freshman would feel embarrassed to say, "I can't do this." After students hear the essays, students nominate their favorite essay and explain why the piece appeals to them.
Present several essays written by Tech students. The website, http://www.thisibelieve.gatech.edu/, includes a number of winning essays. In addition to the written essays, several finalists were videotaped during the public readings. The videos are great teaching tools because the students demonstrate different performance styles (humble, nervous, engaging, humorous, etc.). I typically present Michael Braun's moving speech about a terminally ill high school classmate, "I Believe in the Beauty of Life;" and Jay Danner's amusing essay about spontaneity, "I Believe in Sidewalk Waltzes."
Invite former student finalists visit the class to read their essays to a new crop of peers. Seeing a Georgia Tech student perform an essay live reminds the class of the real human being behind the essay. Also, hearing these works reinforces the traits often found in a winning essay: originality, style, vivid description, dialogue, and epiphany.
Present the directions for the project: "For this artifact, your task is to write a 'This I Believe' essay. Your essay will be approximately 500 words. The essay should tell a story that relates to the formation of your core beliefs and the guiding principles by which you live. You will present your 'This I Believe' essay to the class in a form of your choice. For example, you may give a speech or show a PowerPoint or video. Presentations must not exceed five minutes."
Students write proposals to share with their peers in the next class. In the beginning of the semester, students create groups of about four to five people. These "communication support teams" meet for projects throughout the semester. The "This I Believe" essay project, which is personal in nature, helps groups form a bond early in the semester.
Students write and revise their essays with the help of their small groups. If time permits, I hold a conference with each small group in which students guide the discussion about revision.
Students present their essays to their small groups for feedback. For traditional speeches (the presentation format most students choose), students practice their oral presentations in a classroom, where the presenter is at the front of the room and the group mates are in the back. Group mates should give suggestions on volume, speed, body language, etc.
Plan two or three presentation days for students to deliver their final artifacts. All students are given a peer review sheet. They write confidential reviews and score each presentation on a scale of 1 to 10. On their blogs, each student's homework that night is to write an extended review of their favorite presentation. After everyone has presented, students vote for their favorite work on their peer evaluation sheets. I give the "People's Choice Award" (one bonus point on the final grade in the class) to the student who receives the most votes.
Resources:
Links to works by my students:
"I Believe in Asking for Forgiveness" (Video Essay)
"I Believe in Salted Pickles" (Written Essay)
"I Believe in Sunday Mornings" (Written Essay)
Links to works by Dr. Mirja Lobnik's students:
"I Believe Humankind's Biggest Flaw Is Its Self-centeredness" (Video Essay)
"I Believe in Having Basic Knowledge About Everything" (Video Essay)
"Doing homework" by Predi is licensed under CC BY-ND 2.0
---
In this power lesson shared by high school English teacher Cynthia Ruiz, students write their own personal statements of belief. The essay pushes students to write about something that matters to them and helps them get to know each other on a deeper level.
---
I used to assign a "Letter to the Teacher" at the beginning of every year to get a snapshot of how a student writes while simultaneously learning background information. Being completely honest, this assignment is also an easy way to get the first few back-to-school days started when a 90-minute class period feels like 900 minutes, because everyone is typically on their best behavior and not talking much. Although I enjoy reading the letters, the assignment doesn't lend itself to revising and is written only for a specific, one-person audience.
I know building relationships with students is important and a way to get to know them is through their writing, so I did some research to see what other teachers were trying. I came across the "This I Believe" site and immediately liked the concept better than an introduction letter for a teacher.
Assignment Guidelines
The first time I assigned a "This I Believe" essay was in the fall of 2014, during the second week of school. I planned it as a year-long endeavor, something we could work on as a distraction from other essays required to prepare for state testing. This past year, I did not assign it until late April; it would be our last major writing task. I wanted to give everyone plenty of time to write but held them to a firm deadline of having four weeks to work.
This time, I crafted my writing guidelines according to those posted on the NPR site that hosts hundreds of This I Believe essays from around the world. My rubric still has some typical writing conventions, but overall I think it focuses more on student voice than structure. I made it clear that students had a lot of choice regarding both content and format. The biggest restriction came directly from the This I Believe site: a 500-600 word limit. I know a lot of writing teachers are divided when it comes to word count, but I figured it was still better than giving a specific number of required paragraphs and sentences.
One other requirement was that students use at least three "vocabulary devices." This may seem like a restriction, but it actually supported student voice. Over the spring semester, we spent a lot of time reviewing both rhetorical and literary devices (anaphora, hypothetical questions, simile) and I told students to focus on the devices they genuinely felt comfortable using.
Helping Students Choose a Topic
Because the rubric leaves room for a lot of choice, I encouraged students to visit the featured essays site and not only read, but listen to real examples. I wanted them to see that this wasn't just another run-of-the-mill assignment, that what they believe is important and writing is just one way to share those beliefs. I also made it a point to tell them our end goal was to share this essay with their entire class by way of a gallery walk.
After giving students time to explore the site, I had them "rush write" in their notebooks to see what immediate ideas they captured to help start the brainstorming process. Here's the prompt I used:
---
This I Believe
For 2 minutes:
List words or ideas that you think about when you think of YOUR LIFE.
(Can be feelings, symbols, names, events, etc.)
---
After students generated this list, I asked them to consider what they wanted to write about and share with others. I wanted them to imagine a larger audience and think outside of meeting my expectations.
For some, deciding what to write about was easy and they began drafting immediately. However, the majority of students struggled not so much with what they believe, but how to write about it. Even though they appreciated having so much choice, they still needed some direction to get started.
We continued the listing strategy by focusing on "most memorables": most memorable events in life so far, most memorable stuffed animal, most memorable friends, family experiences, life lessons learned, and so on. I asked them to focus on why they remember what they remember, and whether or not it impacts any of their beliefs. One student remembered a saying his grandmother always told him that still provides comfort as he's gotten older. Another focused on her family not having a big house when they first moved to America and how she's learned to be satisfied with opportunities instead of possessions. While this strategy helped a lot of light bulbs go off, it didn't work for everyone.
Another strategy I tried was using involved sentence stems: I know I am the way I am today because______. I know I think about things the way I do because _______. I think most people would describe me as ______. I emphasized that these phrases did not have to be included in their final products, but should help generate ideas. I talked with a few frustrated students about this strategy and they told me it made them realize they've never really had to think about themselves in this way, but ultimately, it gave them direction for their essays.
Drafting and Revising
Because of block scheduling, I gave students about a week and a half to complete a working draft, which required having at least two paragraphs of their essay done. I only gave a portion of two to three class periods to actually write in class; students were expected to write on their own time.
On the day drafts were due, I set aside class time for revision. I asked students to refer to the rubric and focus on voice and vocabulary strategies. Questions I told them to consider were: Does this sound like me? Do I talk like this to my friends or family? I gave students the option of reviewing their own essays or partnering up with someone to peer edit. Again, this was the end of the year, so we had already established a pretty firm community of trust in class. I don't know if peer editing would have been as easy had I done the assignment early in the year.
Overall, draft day didn't feel like the usual "revising and editing" days we've had with other essays. Students were very concerned with whether or not they were making sense, if they should add more, or if they were being too repetitive, rather than only being concerned about capitalization, spelling, and grammatical errors.
Sharing the Finished Essays
The culmination of this assignment was when the essays were shared in a gallery walk. The gallery walk is my answer to having students write for a larger audience, and it really helps this essay become about what students have to say instead of just another grade. I can't count how many times I have returned tediously graded essays only to have a kid immediately walk over to the recycling bin and trash it! Sure he read the comments and suggestions I made, or saw the cute smiley face I left by an excellent word choice, but it didn't mean much to him because the paper is graded and finished, and he is now done thinking about it. With a gallery walk, not only are students thinking about what they wrote, but they have the opportunity to think about what their classmates wrote as well.
I printed each essay without any names, and made sure any identifying statements were revised. However, there were quite a few students who said they were proud of what they wrote and had no problem if others knew which essay belonged to them. Because not every student turned in a final copy, I printed additional copies of some completed essays to ensure every student had something to read during our gallery walk, instead of drawing attention to the two or three students who did not finish the assignment.
I placed the essays on different tables throughout the room and allowed students to move around as needed; some chose to stand and read an essay, others opted to sit, while others sprawled out on the floor to read. I played soft music and asked that the room volume stay quiet enough to be able to hear the music at all times. I didn't mind if students were sharing and discussing, and I really wish I recorded the various conversations and comments I overheard that day: "Wow! Did you read this one yet?" "Man. Who wrote this? I might cry. Good tears, though." "This one is life, Ms. Ruiz."
I provided a pad of post-its near each essay and told students to leave POSITIVE feedback for each other. I provided sentence stems to help:
---
Something I liked…
Something I can relate to/agree with…
Something that surprised me…
Something I want to know more about…
I really think…
---
I periodically checked to make sure no one was being inappropriately critical or just leaving cute hearts or check marks. I wanted students to think about what they were reading, and understand that feedback is a crucial part of the writing process
After about 40 minutes, each essay had received multiple written comments, looking similar to the picture below:
Overall, the feedback was uplifting and actually created a sense of belonging in each class. Students told me they learned so much about each other that day and were shocked by their classmates' writing. A few said they wished they had written this essay sooner.
Sample Student Work
I was floored by some of the essays I received. Some made me laugh, some made me gasp, some made me cry. Compared to the typical papers I usually assign, this essay allowed my students to not just think about what they were writing but to care about their writing and to be intentional in the language they were using, both in word choice and rhetorical strategies, because it was about what they believe. It is some of the strongest student writing I have ever received as an English teacher.
Here are some sample paragraphs from students who gave me permission to share their work:
From a student who told me he hates school and hates writing.
From a student who by all outward appearances, comes from a traditional family.
From a student battling depression and anxiety.
From a student who missed almost a whole semester but is trying to stay in school.
Although this essay helped end the year with a strong sense of community, I think teachers could easily have students write it at the beginning of the school year or even in January at the start of a new year. I'd love to hear how other teachers have used an essay like this in their classes. ♦
---
Have you taught a lesson or designed a learning experience we should feature in Power Lessons? Send a full description of your lesson through our contact form and we'll check it out!
---
Learn something new every week.
Join my mailing list and get weekly tips, tools, and inspiration—in quick, bite-sized packages—all geared toward making your teaching more effective and fun. You'll also get access to my members-only library of free downloadable resources, including my e-booklet, 20 Ways to Cut Your Grading Time in Half, which has helped thousands of teachers spend less time grading!